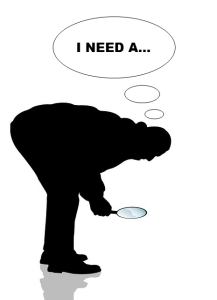 Words of Desire
Search Engine Optimization or SEO is the process of getting search engines to value your site more than your competitors when someone looks for your goods and services. Put simply, when a person types "broken sink" into Google, you want your plumbing business site to show up. And you want it to show up high on page 1, which makes choosing your site – and you – more likely! Better position, more leads, conversions and sales!
SEO is the way you develop higher ranking. Search engines have complex rules that evaluate your website's value to the public – if you look like your provide the most value – they put your listing at the top of the page.
OK, that's a little misleading. If you look at a page returned from a Google, Bing or Yahoo! search there are many things going on. Lets look at an example (see below.)
The areas outlined in RED are paid advertising (Pay-Per-Click) and are on this page because they those businesses will pay search engine companies, in this case Google, a certain amount of money if and only if someone clicks on their link (in this case for "emergency plumber" in NYC, about $15/click.) This is how search engine companies make their money. It is sometimes referred to as "Pay-Per-Lead".
The light blue box shows "organic" search listings. These are website pages that Google or other search engines deem "valuable" to the searcher because the sites have had traffic or are referred to favorably (as backlinks) from other sites (articles & comments.) If your page is visited a lot and people stay on it longer, it is considered more valuable and it moves up in rank.
The dark blue box for Google search is the "7-Pack" and shows how the Google Plus/Places listings for the business. These listings  may be created by client searches or other internet activity. Google give preference to listings that are optimized and "connected" so consider using the "Local Buzz" service before SEO.
Emertia Marketing's SEO service encourages the search engines to push your website to the top. This give you the greatest chance to be called upon via phone or email to serve the prospect. Our services are comprehensive and include analysis of your business, your competition and the search engine characteristics that must be satisfied to get your company the best possible position.
Our service includes a set-up phase in month 1 and ongoing monthly services. Pricing depends on the number and competitive nature of the keywords involved (such as personal injury lawyer.)
The following is an outline of services.
Set up:
Comprehensive keyword research
Competitive analysis
Deep technical analysis of website names, "crawlability" and hidden links
Directory setup
Press Releases
Google authorship setup
Top social media account set-up
Top social sharing account set-up
Multiple blog set-up
Blog article writing
Keyword optimization for article titles and content
Website keyword search optimization (over 15 separate tasks)
Website performance optimization (how well is content delivered)
Website backups
Task and performance reporting
Monthly Activities:
Content selection, generation and distribution (client involvement is essential)
Content management (keyword-page targeting)
Blog article writing and linking
Social media and off-site distribution
Press release submissions
Competitive link building
Website speed and security optimization
Task and performance reporting
Call for today for a consultation: (888) 499-4380